Defender Filter
AQUA-TEKNIK was one of the first water treatment contractors in Europe to install Defender filters as an alternative mechanical filtration system, which is offering an extraordinary amount of operational savings, in particular savings of water, electricity and chemicals. At the same time, space requirement for the filtration unit is dramatically reduced, compared to traditional sand filtration. These parameters have meant that the filters produced in USA, are now sold all over the world, in particular for water parks, as well as professional competition pools, used for the Olympics as well as the European and World Championships.

The filters are since 2009 sold in Europe by the Danish company, Defender Europe A/S. Since the launch in Denmark, AQUA-TEKNIK had the pleasure to deliver complete water treatment systems with Defender filters to an extensive number of facilities in Denmark, as well as Germany, Benelux and in the Middle East.
We, at AQUA-TEKNIK believe that this proven highly efficient system is the future of filtration to all swimming facilities. With the thought of environmental resources and of course the extensive economical savings, nobody can, in the long run, defend to continue to waste water and power to the usual degree.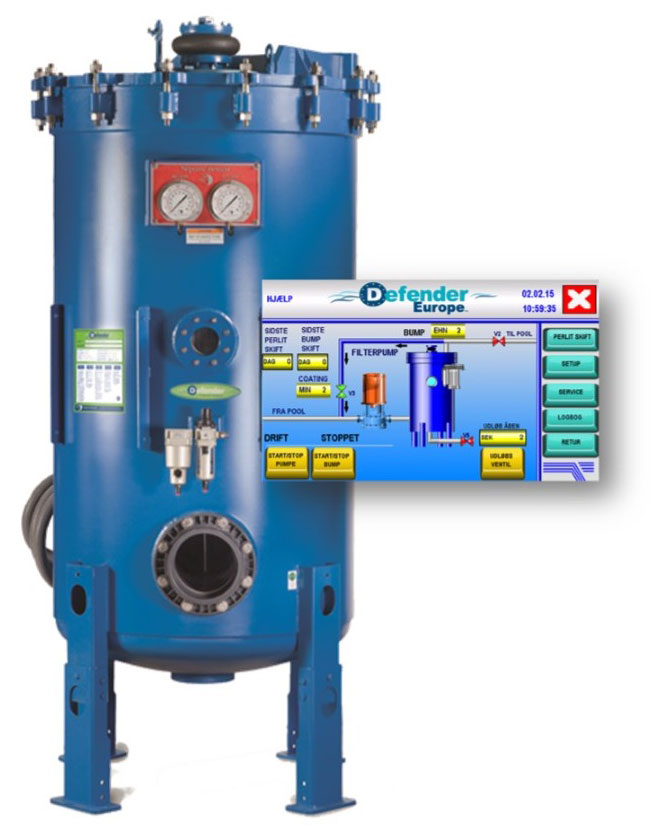 Defender filters are using perlite as filtration media. This is not a new technology - many swimming facilities are aware of the efficiency of powder filtration, in relation to the water quality. The new technology in Defender filters are the filter elements and the overall function of the filters. For larger facilities, AQUA-TEKNIK can customize closed loading systems, in order to make the operation fully automatic.
AQUA-TEKNIK will work out a saving analysis for all potential projects, in order to give clients the best background for a decision of which water treatment system to use.
In 2016, AQUA-TEKNIK had the pleasure to deliver Defender filters and fully automatic loading system to the new Herning Swimming bath, and to their existing facilities as well.