THE REESTABLISHMENT OF 'VESTBADET'
Historic outdoor swimming facility is being restored in its original expression from the past - and renovated with water treatment systems of the future
In 1958, one of the first outdoor swimming facilities in Denmark, the so-called 'Vestbad', was inaugurated - to great excitement among the citizens of the local community in Rødovre and Brøndby municipality.
As the architectural facility soon became a social hub for a continuous growing number of visitors, the facility simultaneously began to suffer from wear and tear - especially in recent years, the facility was clearly marked by the fact that it has been frequently visited.
So, the 60-year-old facility needed a radical makeover which is exactly, what it is having right now.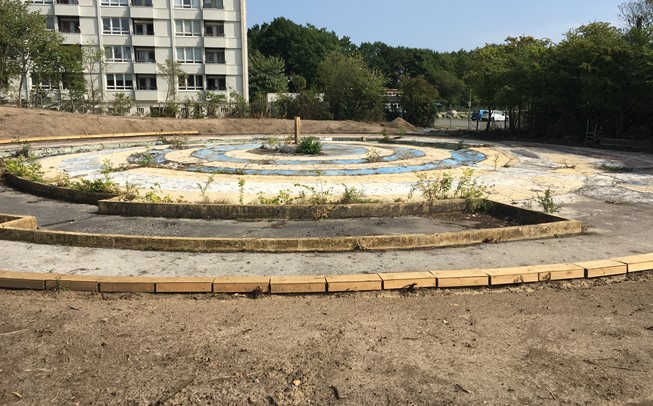 The balance between new technology and original expression 
The idea is to bring back the beauty of youth into the outdoor facility but still maintain the well-known original expression from 1958, designed by former city architect, Børge T. Lorenzen.
Beneath the surface of the beauty, the water treatment system of the facility is undergoing an extensive overhaul. But in contrast to the superficial restoration in the original expression, the renovation of the water treatment systems contains a modern and much more efficient water treatment technology compared to before. A system, that complies with todays' stricter standards for water quality.
And this is where Aqua-Teknik comes into the picture. We namely have the honor of installing 'Vestbadet' with brand new, complete water treatment systems - and transforming the worn-out water treatment systems into automatically controlled systems, which will save the facility from significant operational costs.  

The development of water treatment technology has since the facility's opening in 1958 been rapidly growing due to growing concern and stricter regulations in terms of environment.   Therefore, the water treatment systems are installed with the water treatment filtration system, Defender Filter, as the filters save massive amounts of water, energy and chemicals. Furthermore, Defender Filter requires minimum space as well as operational time. These are just some of the benefits associated with the new filtration systems of Vestbadet.  
The reopening of Vestbadet is expected to take place in late summer 2019.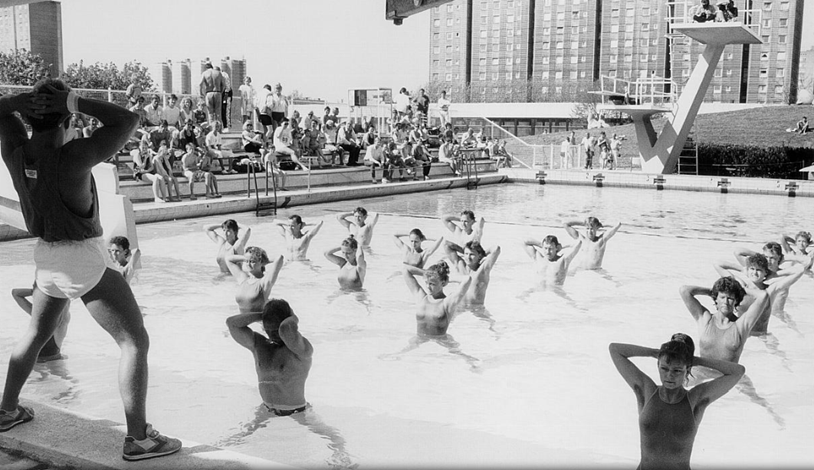 The iconic Vestbadet is designed by the city architect, Børge T. Lorenzen. The original expression from 1958 will remain unchanged.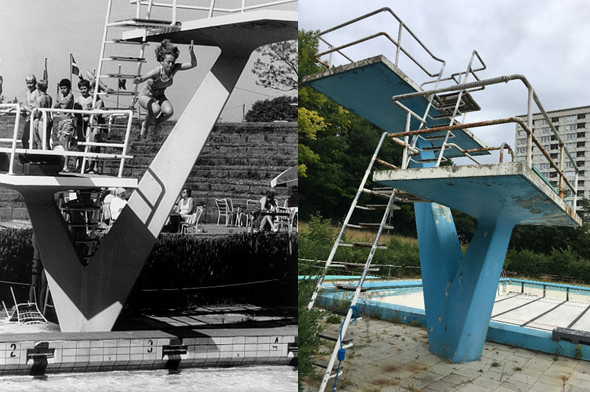 The characteristic V-shaped diving tower has over the years faded due to corrosion damage and wear. The diving tower will of course maintain its original expression during the restoration, as it is one of the main landmarks of Vestbadet.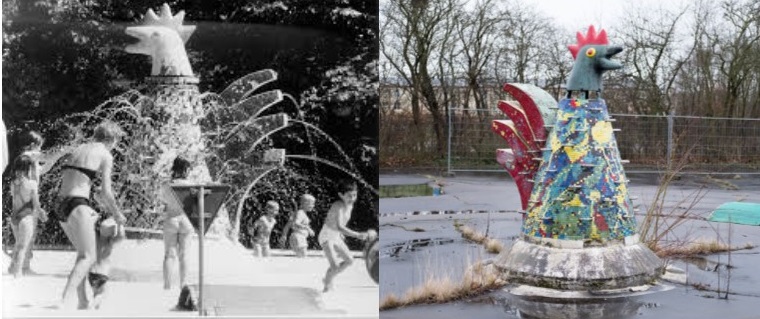 One of the main distinguishing features of Vestbadet, is the colorful water sculpture called 'Hønen'. The sculpture in the center of the spiral-shaped water playground was designed and created by landscape architect, Carl Th. Sørensen and garden architect, Junggren Have.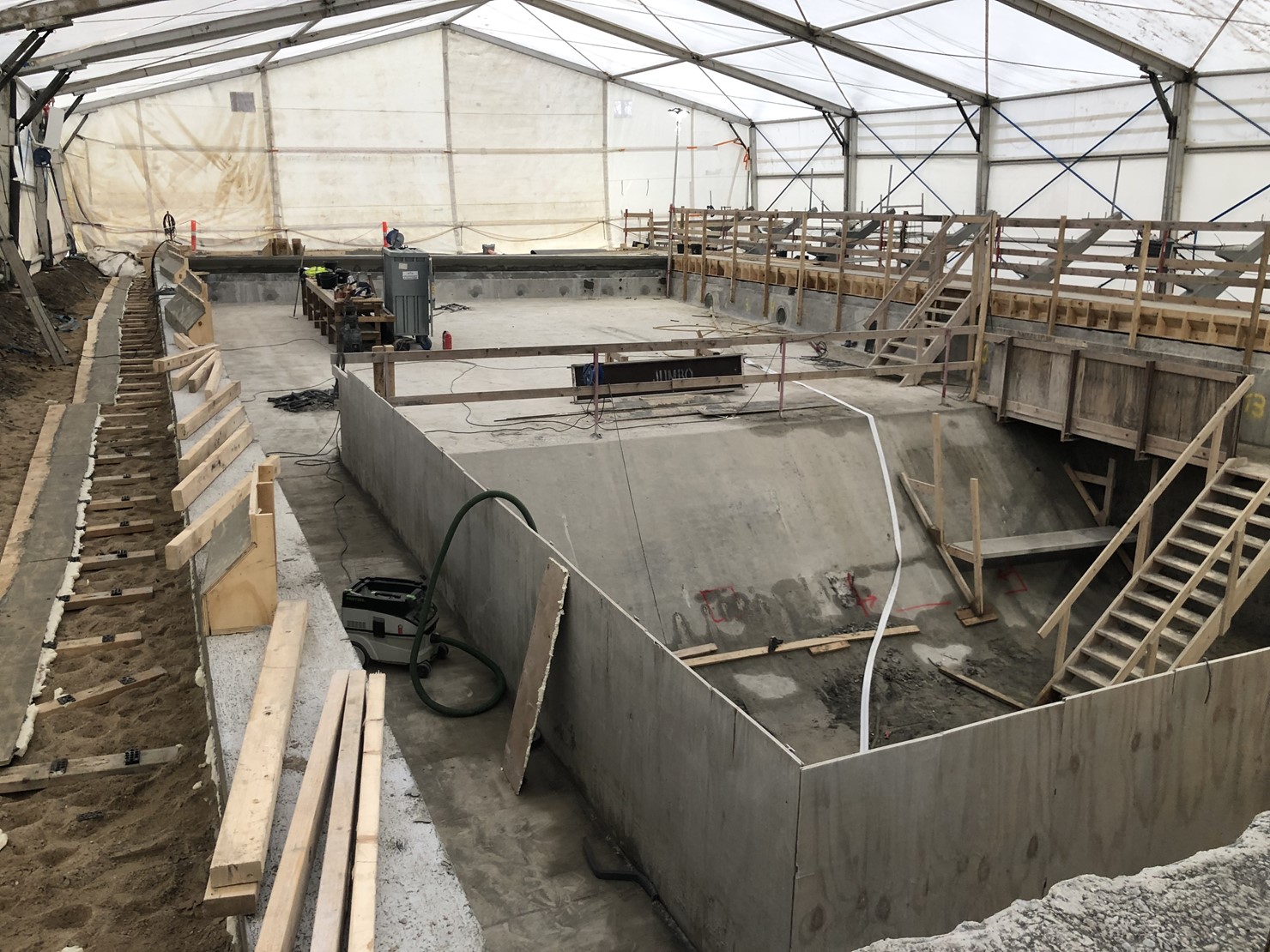 During winter 2019, the basins were covered by large, heated tents while the restoration of the pools were carried out. This was necessary in order to prevent the cold and frost from damaging pipes and components in the basins