The beginning of a new year always means the beginning of new, interesting projects. However, this does not mean that we are not already engaged in ongoing and at least as exciting projects as well. Among these projects is the impressive, sustainable and future-proof 'Arenakvarterets Skole og Svømmehal', in which we are cooperating with the talented general contractor of the project, BAM Danmark.
Aqua-Teknik as Contractor for Water Treatment Systems and Pool Equipment 
We are very excited about our role as contractor for the complete water treatment systems as well as the entire range of pool equipment for the swimming facility of the new innovative, universal construction containing a multi-track school and, of course, a large swimming facility. But now that our skilled project department has done their magic and soon completed the planning process, we cannot wait to get started with the installation phase and see this spectacular, multipurpose construction take shape.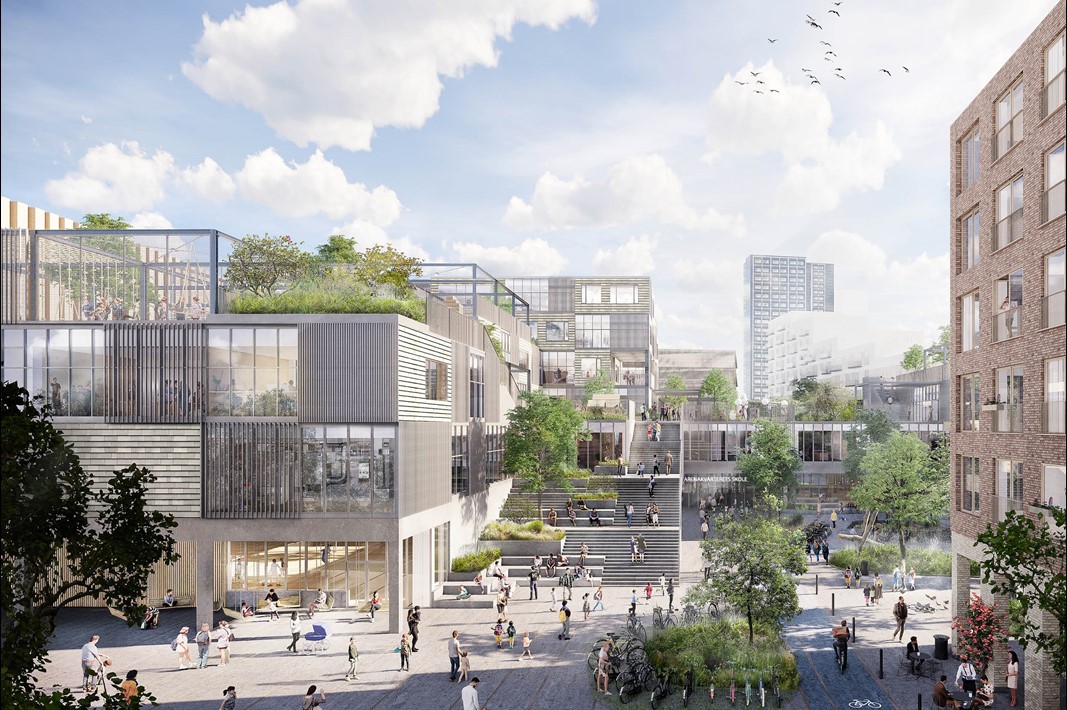 Illustration by Rubow Arkitekter
DGNB Gold Certification
Besides being an aesthetical impressive building, 'Arenakvarterets Skole og Svømmehal' is also a product of the spirit of the times, where concepts like 'innovation', 'sustainability' and 'future-proof' are impossible to avoid in the context of today's construction projects. 
Once completed, 'Arenakvarterets Skole og Svømmehal' will receive the prestigeous DGNB-gold certificate, which means that every stage in the project has been and is based on the following DGNB criteria: 1. Environmental quality, 2. Economic quality, 3. Sociocultural and functional quality, 4. Technical quality, 5. Process quality and 6. Site quality.
Facts about 'Arenakvarterets Skole og Svømmehal'

Floor area: ca. 14.000 m2
Outdoor area: ca. 6.000 m2
Swimming facility: 3.500 m2
Total project sum: DKK 770 mio.
A versatile Swimming Facility 
The vision for the swimming facility is to become a common activity and learning place for both school students, neighbours and other Copenhageners, and of course a whole new swimming facility is expected to strengthen the local area remarkably.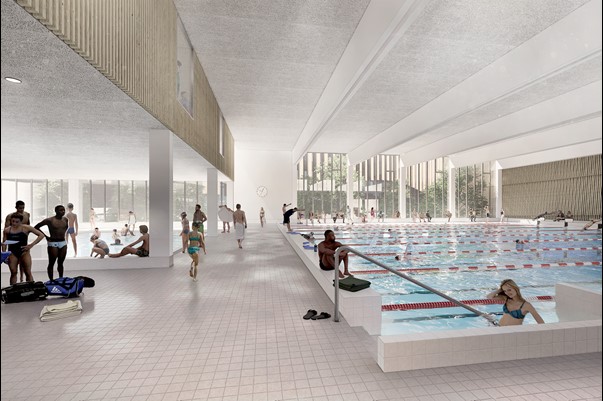 Illustration by Rubow Arkitekter
The facility contains the following pool types:
25 meter Swimming and Training pool
Play and Teaching Pool
Multi-purpose Pool for rehabilitation, baby swimming etc.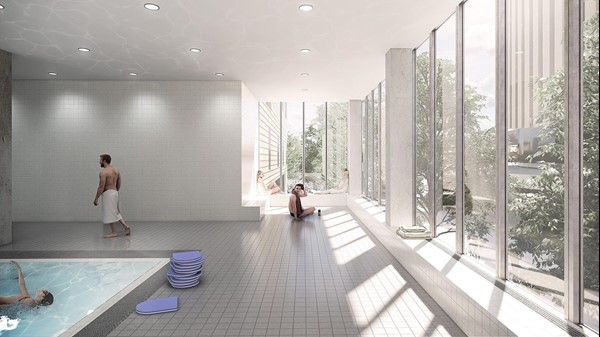 Illustration by Rubow Arkitekter
Besides the complete water treatment systems for all three pools in Arenakvarterets Svømmehal, Aqua-Teknik is also responsible for the entire range of pool equipment in the swimming facility including:
Innovative, Underwater Pool Speakers 
Underwater Pool Lighting
1 meter Diving Board
Competition equipment for the swimming and training pool (according to current FINA-regulations)
Stainless Steel Handrails and Railing
...And much more.